200

HOURS YOGA TEACHER TRAINING
Connect with the cosmos in you through the teachings of Yoga
DO YOU WANT TO BE A YOGA TEACHER ?
Certified Cosmos Yoga Academy Teacher Trainings (YTT) are carefully designed in conjunction with respected mentors to offer our students the finest experience in yoga education, all within a high quality atmosphere and Luxury surroundings. Our standard yoga teacher training programs are based on the traditional system of Ashtanga vinyasa yoga, aligned with a modern approach towards study of the anatomy and physiology. The results are a comprehensive education that balances the yogic philosophies of spirituality with the modern benefits of health and well being.
Resting is absolutely essential for keeping your body and mind healthy during the practice, and we know it. To ensure a well deserved rest, Cosmos Oasis boasts luxury contemporary accommodation equipped with AC, hot water shower, full closet, sizable beds and amenities. There are two fabulous swimming pools conveniently located, and a full-service kitchen.
At Cosmos we offer fresh, plant-based cuisine in the heart of Canggu. Our nutrition-conscious menu is sourced from clean foods, combining fresh local ingredients with healthy recipes to nourish the soul. Our cuisine is harvested daily and lovingly prepared with attention to detail in our on-site restaurant. Concentrating on vegetarian, vegan and raw foods, Cosmo's restaurant offers tasty fusion recipes in a peaceful and tranquil setting.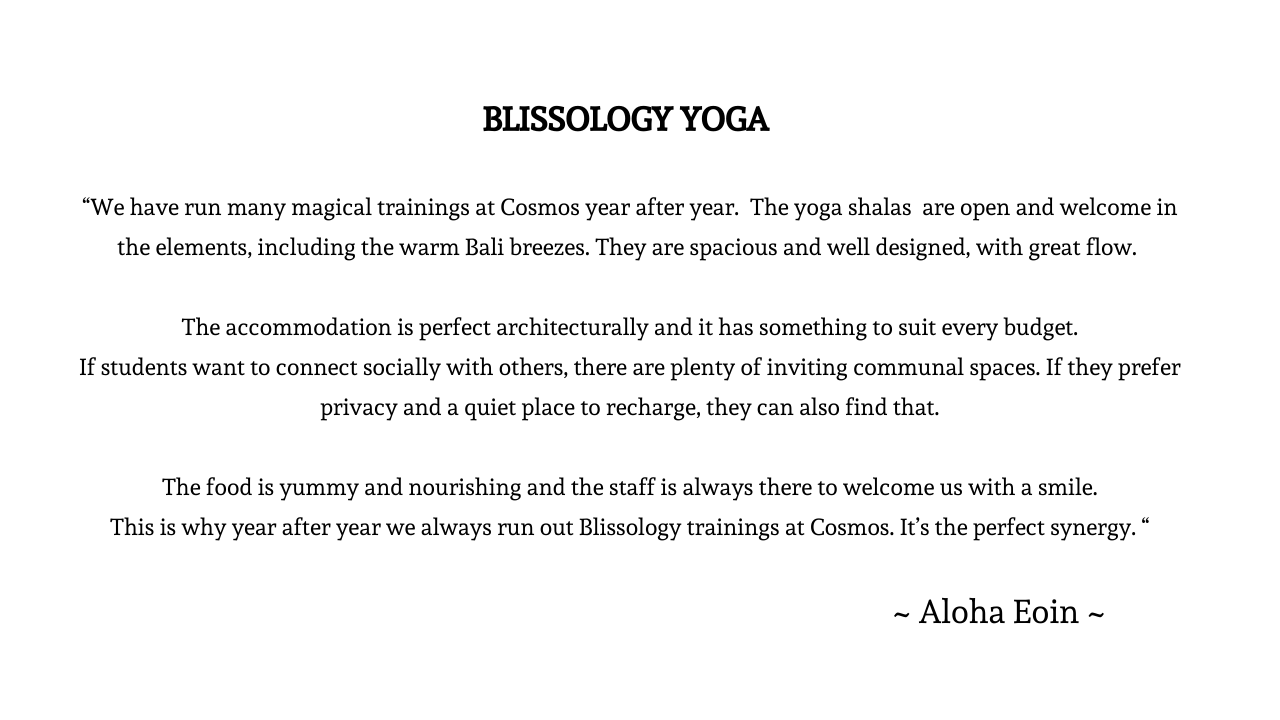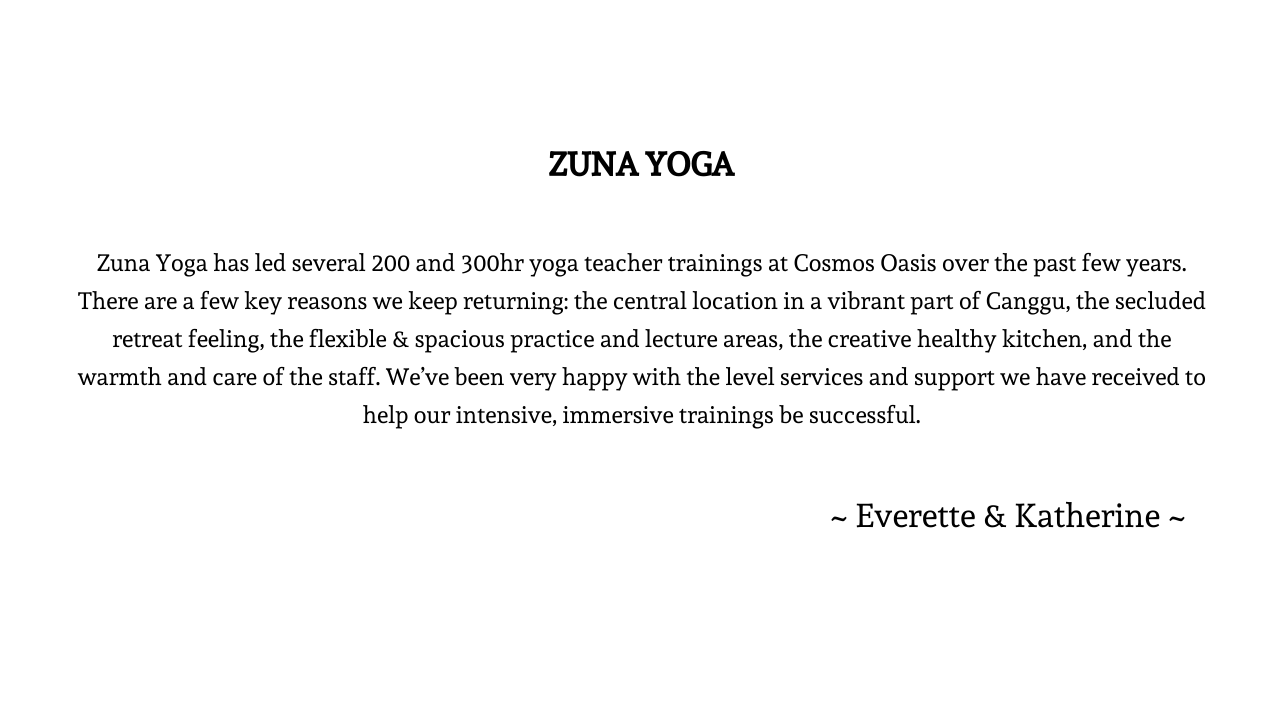 "Irena is such a fountain of knowledge about ashtanga… Accommodation was luxury, beautiful, so quiet as well, really peaceful".
"After joining Cosmos I know there is something more that we can learn… Yoga is much more than posture and asanas."
"The retreat was amazing. We could listen to our body & full our own rhythm. The classes were very inspiring. I feel like I really improved my knowledge."
"I really enjoyed this experience. This is something that I did not expect as I had not much experience in yoga before."
"It was so valuable, full of knowledge, with amazing professional teachers, super delicious food… simply beautiful."
CEREMONIES, PART OF YOUR YTT
Ceremonies play an important role in Balinese culture, and we feel is important to participate of them to get the whole experience of this amazing island. As part of the 3 weeks you´ll be able to join the Fire Ceremony, the Water Ceremony and The Pyramids of Chi (sound healing).
WHAT A DAILY SCHELUDE LOOKS LIKE
If Cosmos Oasis Yoga Teach Training interests you, please fill out the form below and we will be in touch. Because this is an intimate group, we are extra selective in who we bring into this space. Please take your time answering these questions. Upon filling out the form, we will review the application and be in touch with the next steps to get you booked on.